Discount codes, coupon codes, or vouchers can be entered on the checkout page.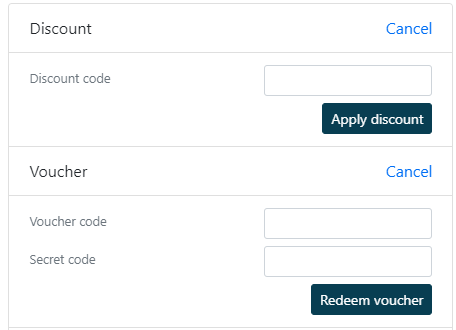 When redeeming a promotion code advertised on or off our website, please read the specific promotion details, as these vary with each promotion.
Each promotional code can be used only once, unless otherwise specified.
Each promotional code applies only to qualifying items as specified in the offer, unless otherwise specified.
The promotion is subject to all restrictions set forth in the offer.
The promotional code is not transferable and may not be resold.
If you return items purchased using a promotional code, we will subtract the value of the promotional code from your return credit.
Promotional codes may not be combined with other offers, unless otherwise specified.
Limit one promotional code per customer, unless otherwise specified.
Revolution Industrial does not accept liability if a coupon code is missed during checkout by the customer. These codes will not be applied after the order is placed.
If you violate any of the Terms and Conditions, the promotion will be invalid, and the promotional code discount will not apply.